It has been my experience that growing up with the right bike for your size and interests maintains a love of biking throughout our lives. Here is a list of the types of bikes that are best for kids of different ages.

Age 1-3

Balance bikes are perfect for this age. Strider has the shortest frames; hence they are best for the youngest kids. However, any balance bike is perfect for bigger kids.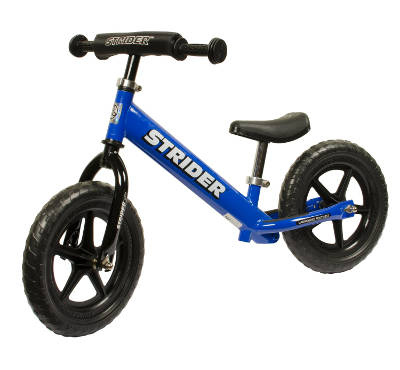 Age 3-4

This is the perfect time to transfer from a balance bike with 12 inch wheels to a 12 inch wheel pedal bike. A word of caution: don't push your kids to pedal. Some will do it right away while others will prefer to keep their non-pedal balance bikes for a while longer. Let your child pick their preference. My daughter started a pedal bike at a very young age, while my son waited a year longer. Both situations worked out perfectly.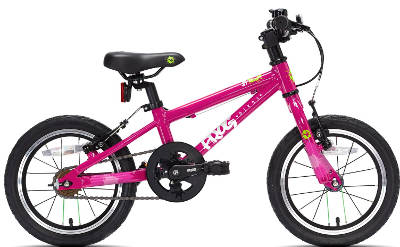 Age 4-5

This is the age when kids finally get to ride what I'll call a real bike.

At the age of 4, my daughter's first pedal bike was a BMX micro mini. Micro mini bikes are super lightweight - about 15 lbs - and easy to adjust to fit the height of your child. My daughter used her micro mini for about three years. She also used it in a few triathlon races for kids. Kid's tri's are a blast for them and their parents!
Also at age 4 my son started pedaling with a 16 inch BMX bike. It was short and fit his body perfectly, however the standard wheels/tires were very heavy and he had a hard time climbing hills until he got older.

Overall I think 16 inch BMX or micro mini bikes are perfect for kids up until 5.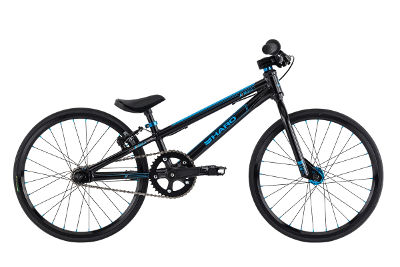 Age 6-8

Small kids still need light bikes, so please stay away from department store models that use hi-tensile (hi-ten) steel frames. Once they outgrow a BMX micro mini, a BMX mini will be slightly taller and longer and still super light - 15lbs - so these are ideal for keeping up with Mom or Dad. They will also be able to use these bikes in triathlons.
Kids interested in BMX can step up to normal BMX bikes for jumps. Danscomp.com would be a good resource to find BMX bikes.

Shopping for a mountain bike for your child is not a fun experience. I found it so frustrating that I eventually ended up designing my own Downtube Race mountain bikes. The rigid model is perfect for smaller, lighter kids, and the suspension model will stay with them until they are 11 or so.
Here is a list of each manufacturer and the pros and cons or their bikes.

Performance: Performance has some of the heaviest kids' mountain bikes, so they are hard to handle for many kids. They have a freewheel drive train which is another minus. Also, the fork has to be the lowest quality in production today. For these reasons, I believe this is the worst kid's mountain bike in the market.

Trek: This is the top selling brand in the USA. I was shocked that their 20 inch wheel offering had a threaded headset, 7speed freewheel, and non-replaceable chain ring; all of which are unacceptable for a quality bike. And it costs $600.

Jamis: The only bike with a 6 speed freewheel drive train (I didn't even know they made this stuff anymore.) It also has a low end crank and the cheapest/heaviest seat post / saddle interface.
I would never allow my kids to ride this bike.

Giant: They use a hi-tensile steel fork, threaded headset, 7 speed freewheel drive train, and low end crank. At this point I was worried that I may never find anything for my kids.

Downtube: I developed our kids' mountain bikes because I just couldn't find anything really good in the marketplace. Downtube bikes include a 9 speed drive train, replaceable chain ring, adjustable angle stem, suspension or a rigid aluminum fork and aluminum lowers. Our bikes are disc ready with disc hubs, and tabs on the frame and fork. We developed our bikes to improve on all our competitors' faults. Additionally we sell it for less than half of the competition.
Age 8-10

My kids outgrew their 16 inch wheel BMX bike around this age.

The best option for triathlon racing is a BMX Cruiser mini with 24 inch wheels at around 16 lbs for a one speed.

Road bikes with 650C wheels and 46-48cm frames may fit your child, but make sure you use a single chain ring up front - the double is always a problem.

Mountain bikes in the 5-7 age range work for 8-10 year olds as well. However, bigger kids prefer to have suspension.
Age 10 +

Currently I am not an expert at this range ( my kids are just reaching this age ), however I understand standard BMX bikes are good, 650C road/tri bikes with small frames should fit, and 24" wheel mountain bikes are excellent options.

©2018 Dr. Yan Lyansky