Dr. Yan the Folding Bike Designer

Yan Lyansky started the Downtube soon after his first cross country bike tour in 1995. At the time, he was a graduate student in the math department at Temple University. It began as a online bike store based from his office at school. The original URL of the Downtube was www.math.temple.edu/~yan. After getting in trouble with the math department Yan moved the Downtube to a private server. The Downtube quickly evolved into a complete bicycle resource center including: classified pages, recycle bin for old used up parts, review pages, sponsor database, stolen bike database, chat room, bulletin board system, and much more. After three years of racing mountain bikes, working on his Ph.D., and running the Downtube, it came time for a change. Yan decided to let the Downtube live in stasis while finishing his Ph.D. All the free time allowed him to study chess ( a childhood hobby ). He beat world junior speed champion GM Zamora in a rated game of speed chess ( at the time Zamora was top 10 in the world ). Later Yan boxed under Joe Black former #3 middleweight, studied several martial arts, and became an excellent swimmer. Towards the end of Yan's graduate student days he began to study computer science. In addition to math, he taught many computer science courses including Java, JavaScript, HTML, Webdeveloping, Object Oriented Programming, Oracle PL/SQL programming, and Software Engineering.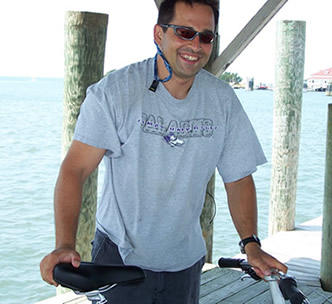 After Yan received his Ph.D in 2001 he started his teaching career at Villanova University as a Visiting Assistant Professor in the Computer Sciences Department. This was a wonderful opportunity for Yan, however it did not work out. The chair, Dr. Beck, ordered Yan to give out good grades to all the students. Yan came from the understanding that education is sacred, not something that can be bought and sold for money. After a few more shocking discoveries, Dr. Yan left Villanova.

It took less than one month for Yan to re-establish his business contacts and restart the Downtube. Almost instantly we became a huge on-line reseller of bicycle parts. Ironically we were one of Dahon's top USA dealers. Within 6 months Dr. Yan had his first folding bike sample, the Downtube VI. Our first 20ft container of folding bikes arrived in the summer of 2003. In 2005 Yan introduced the VIII, and VIIIFS and the bikes have been selling like hotcakes ever since.

While running the Downtube, Yan has taught as a Visiting Assistant Professor at the University of the Virgin Islands, Lafayette College, Furman University, Coker College, East Carolina University, the College of the Bahamas, and Bennett College....he thinks teaching is fun!

Yan has recently begun studying chess again ( two time Bahamas National Champion ), he is also working as a Theta Healer ( he studied with Narayan Jyoti, and Pamela Duff ), and Yoga teacher ( he studied at Sivananda in the Bahamas ). He is offering a free Theta session or yoga advice for any Downtube customer. Please contact him directly at yanL@downtube.com with questions or to make an appointment.